Before there was Homomentum and Turnback Boyz, there was Pants-Off Productions, Glitterfruit, Reclaiming Pink, Untrained, I and Ubergay Cabaret, all projects that helped Max become the artist/producer/musician/writer they are today!  Below are details on the most influential projects of Max's queer artist history.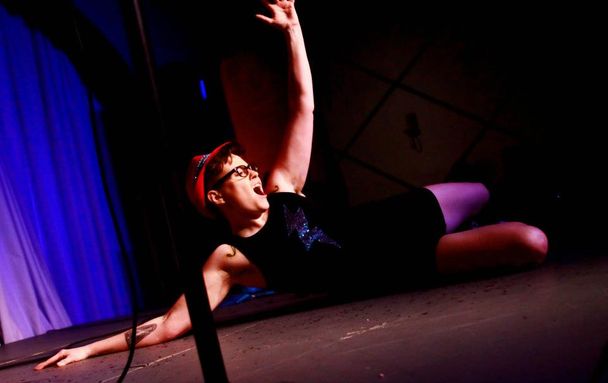 Pants-Off Productions (2008-2014)
---
Pants-Off Productions was a grassroots event-production company that Max ran from 2005-2013.  Via Pants-Off Productions, Max produced Freakshow-a-Go-Go, a circus-themed cabaret featuring national & local queer performers, Kick/Ball/Change, a 3-part dance series which whose inaugural show was part of the 1st Annual Fertile Ground Festival, Homos Got Talent dance-off competition, the Homomentum cabaret series, and dozens of other cabaret, live music and dance shows.
Reclaiming Pink (2011-2013)
---
| | |
| --- | --- |
| | Reclaiming Pink is a one-person show about the construction of gender, told through drag, dance, camp, story-telling and history. It was originally performed at the Portland Center Stage JAW Festival in the Men's restroom, and later performed at the Lewis & Clark Gender Symposium. |
Glitterfruit (2011-2014)
---
| | |
| --- | --- |
| Glitterfruit was a musical-duo starring Max Voltage & Riley LaRoux, through which a handful of songs from Homomentum the Musical were written and developed, including "Compost" and "Sagittarius." | |
Untrained, I (2009-2011)
---
Untrained, I was a DIY dance troupe that combined the genderfuck and camp of drag, with a focus on movement and dance, in a variety of dance styles.  Untrained, I participated in the Kick/Ball/Change dance series, as well as Freakshow-a-Go-Go Portland and Seattle.
Ubergay Cabaret (2003-2006)
---
| | |
| --- | --- |
| | Ubergay Cabaret was a Portland-based drag performance troupe founded by real-life queer siblings Max Voltage and Devan M (left). Ubergay produced 5 original productions, and participated in the International Drag King Showcase Performances in Chicago, Vancouver, BC and Austin, TX.  The troupe's creative forces culminated in Jack-Off the Beanstalk, a fairy-tale pop-opera which toured to Washington, DC and New York City (The Slipper Room). |