Homomentum is a satirical sci-fi musical, love story and tale of revolution. Homomentum was created by Max Voltage, in creative collaboration with Leander Star, Riley La Roux, Kim Lundin and Sossity Chiricuzio.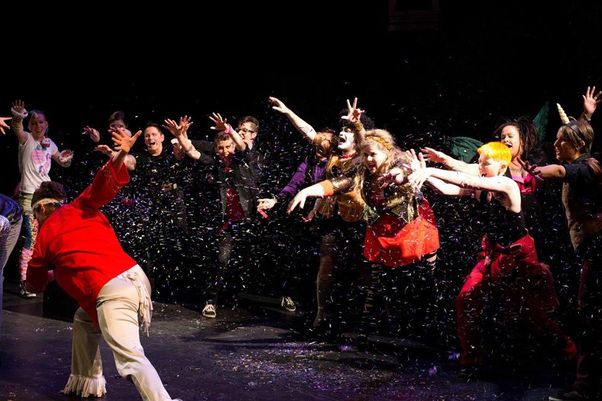 Welcome to Metopia, an uber-capitalist post-Earth dystopia, where our young protagonist Eli is at the verge of adulthood, struggling to fit into a gender-binary world. Enter the Homomentum players, a band of inter-galactic performers, who crash-land on Metopia and catalyze Eli to step outside their privileged life, embrace their queer artist identity, and discover the hidden truths about Metopia.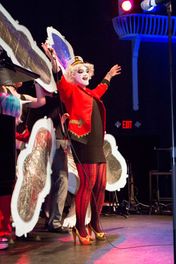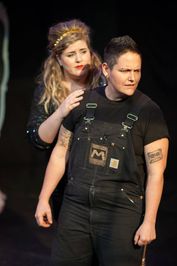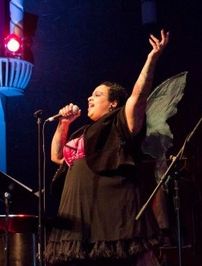 Homomentum is an exploration of class, privilege, queerness, gender, radical identities, polyamory, capitalism, colonialism, sex work, and the role of artists in our society. 
History
---
Homomentum started as a monthly queer cabaret series that showcased dance, burlesque, music, drag & performance-art, with tons of glitter and ridiculousness at every turn (2009-2012).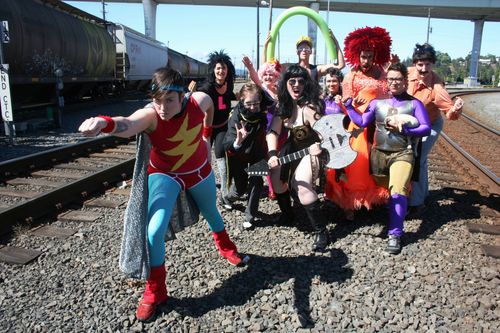 The themes and grassroots art of the Homomentum Cabaret served as creative fuel and inspiration for Homomentum the Musical.  It was also a queer incubator for work that would later become part of Homomentum the musical, including Heal the Greed (video below).
In July 2012, after creating the basic music and theatrical structure for the piece, Max assembled a small cast and performed a sneak-peak medley at the Portland Center Stage JAW New-Work Festival (video below). 
Max then got to work writing the rest of the soundtrack, mostly on their ukulele, and took a trip to the Bay Area to perform it as a musical set. Once back in Portland, Max, together with Director Kim Lundin and a Production team launched their first casting call for a work-in-progress version was performed at Lewis & Clark college in April, 2013.  This performance featured 13 original songs, and a few scenes leading up to them (pictured below).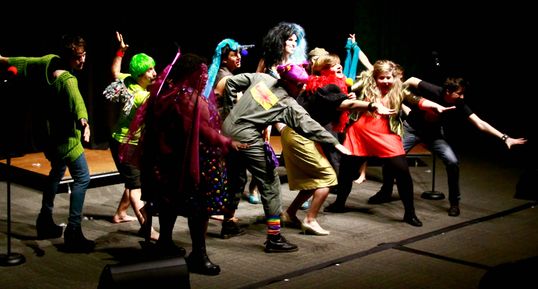 The full Homomentum script and 21-song soundtrack was performed by a cast of 16 queer, trans and ally pdx artists at CoHo Theater Nov 2013, for a 3-show sold-out run, that was partially supported by a RACC Project Grant.  After that, the cast recorded the soundtrack album, which debuted at The Alberta Rose Theater in May, 2014 (photo below).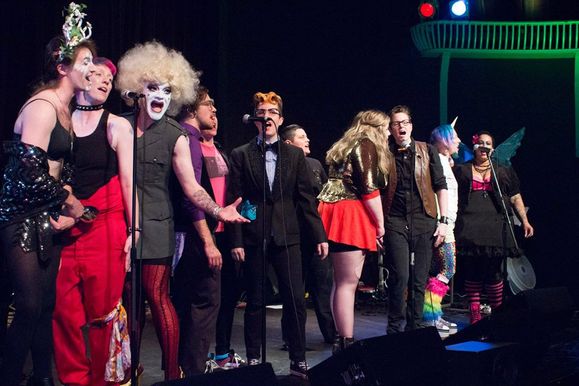 Video
---
Reviews 
---
"Homomentum is campy, smart, witty as hell, and, most of all, great...it felt like RENT and Moulin Rouge had a queer, gender-less baby."  Homomentum: Bright Lights, Big City, Big Hit (Daniel Borgen, PQ Monthly)
"Fabulous... filled with glitter and camp."  Class Warfare Littered With Glitter (Jenna Lechner, Portland Mercury)